---
Award Nominations Are Open
And Save These Dates for EHC Events in 2017
Award Nominations – It's time to submit your nominations for the coveted Aspasia Phoutrides Pulakis and Gordon Ekvall Tracie Memorial Awards. The nomination form is available here and also on the Awards page along with information about the awards and list of past honorees. Deadline for nominations is February 25, 2017.
Saturday, March 11 Workshop, 10 am to 2:30 pm at the Ethiopian Community in Seattle Hall. By popular request the November 5, 2016 workshop "We Are History Keepers" presented by the Ethnic Heritage Council with the University of Washington Libraries Distinctive Collections will be repeated in an abbreviated form. The workshop is free. Watch for details in the workshop flyer. You can reserve a seat or seats now by sending an email with your name(s) and EHC March 11 Workshop to rsvp@ethnicheritagecouncil.org
Saturday, April 29 "Fiesta EHC" – Ethnic Heritage Council's Annual Dinner and Awards Ceremony in the fabulous new Centilia Cultural Center on Plaza Roberto Maestas, El Centro de la Raza, Seattle. Watch for your invitation. Recipients of the Pulakis and Tracie Awards will be honored.
Sunday, August 13 EHC's Annual Ethnic Potluck Picnic at United Indians of All Tribes Daybreak Star Indian Cultural Center at Seattle's Discovery Park. We're returning to Daybreak Star for this festive gathering where your dish could be a winner!
A New EHC Partnership for 2017!
April 15-16 International Children's Friendship Festival (ICFF) at Seattle Center. The Ethnic Heritage Council is now a partner in ICFF's 2017 activities. ICFF is run by children and features performances by children, highlighting their ethnic heritages through music, folk dances and a variety of creative activities. The children celebrate their international friendship through experiencing the rich tapestry of the world's cultures. Visit childrensfest.tacawa.org to learn how you and your children and your organization can be involved. The Festival is free. Download flyer here.
---
Congratulations
Winners of the EHC Student Video Contest!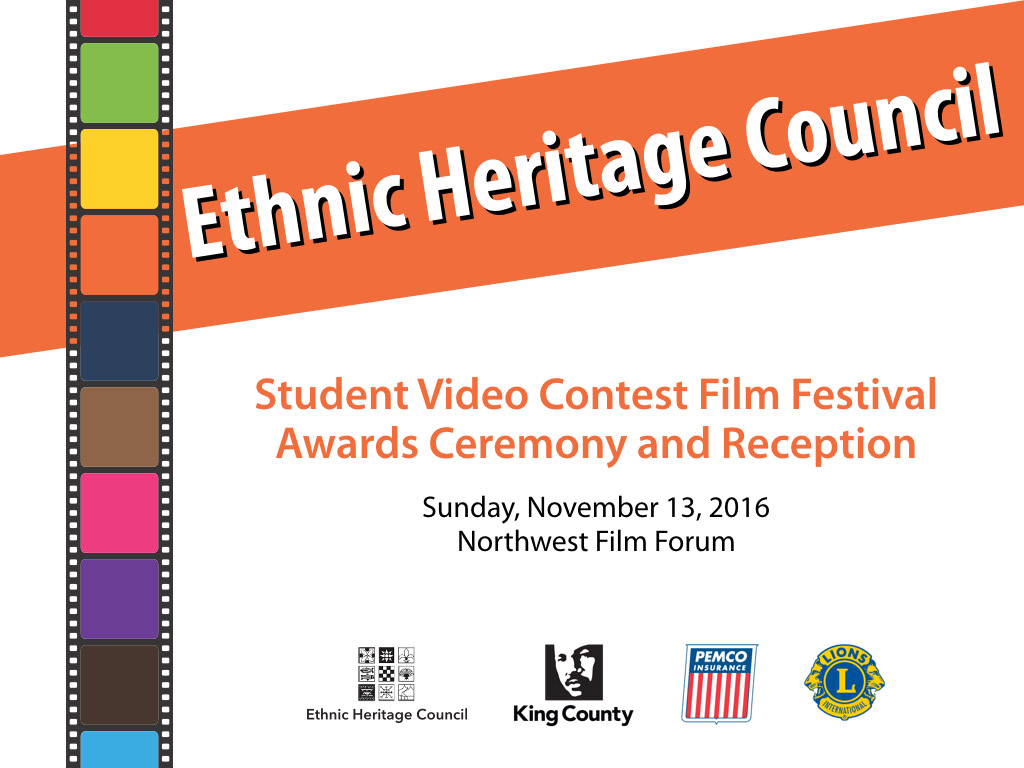 Awards were presented at the EHC Film Festival and Awards Ceremony on Sunday, November 13, 2016 at the Northwest Film Forum, Seattle.
Congratulations to:
Junior High
First place, $1,000 check
Chayton Remle
Past + Present = Me. What I Love About My Culture
Second place, $500 check
Rahul Mallela
The Greatest Problems of the Greatest Democracy
High School
First Place, $1,000 check
Abdulgani Mohamad, Yuhaniz Aly, Samir Nguyen
Ramadan
Second Place, $500 check
Sam Cleary
Ireland
Honorable Mention, $100 check
Alexander Chen
A Deeper Look at Chinese Culture
Honorable Mention, $100 check
Rohan Ramdin
An Honest Conversation
People's Choice Award, $500 check
Abdulgani Mohamad, Yuhaniz Aly, Samir Nguyen
Ramadan
Following is a brief overview of the judges' comments.
Message was an important one; dynamic and moving; clear; fully achieved.
Well organized; structure was perfect; great beginning, middle, end.
Interesting concept; unique, creative approach.
Very engaging, learned something new.
Great use of techniques, props and talent. Excellent set design.
Strong use of data, examples, graphics, music.
Powerful visuals. Many memorable images. Beautiful cinematography.
Thoughtful writing. Narration was perfect. Spectacular editing.
Strong connection with family, heritage and community.
The judges as well as the audience were impressed and inspired by the stories.
Thank you to all who voted for their favorite video on YouTube.
Special thanks to the students and their families, and to the King County Office of Equity and Social Justice, PEMCO Insurance Company, and the University-Ballard Lions Club.
The program for the EHC Film Festival and Awards Ceremony is available to download here.
---
2016 Annual Dinner & Awards Ceremony
Polish Cultural Center – Seattle – May 7, 2016
Photos by Gary Benson
View gallery »
EHC thanks these sponsors for their generous annual program and operating support: