Event News from the Ethnic Heritage Council

EHC Awards Nominations Due

The Ethnic Heritage Council

Annual Meeting Dinner and Awards Ceremony

will be held on

Sunday, April 29, 2018, 4:00-7:00 pm,

at the Leif Erickson Hall in Ballard, Seattle.

Send your nomination(s) for the

Aspasia Phoutrides Pulakis and Gordon Ekvall Tracie Memorial Awards

Download the nomination form

here

Special Preview Tour of the New Nordic Museum

Watch for our announcement in early February about a special preview tour, with refreshments, led by Nordic Museum Executive Director, Eric Nelson. Be among the first to see the new museum before the official opening on May 5-6.

If you want to be one of the first to sign up, send an email now to

| | |
| --- | --- |
| | |
| | Design by Mithun_ Image by Mir |

AKCHO Annual Meeting and Luncheon

Tuesday, January 30, 2018, 10:30 am – 1:00 pm

The Association of King County Historical Organizations

Annual Meeting will feature a program on

"Edward S. Curtis and His Impact"

at the Museum of Flight, cost is $40/person

(free tour of museum included).

We Are History Keepers

A FREE WORKSHOP ON PRESERVING THE CULTURAL AND HISTORICAL RECORD OF OUR COMMUNITY

Saturday, February 17, 2018

12:00 – 5:30 pm

Northwest African American Museum

2300 South Massachusetts Street, Seattle

This day of workshop sessions at the Northwest African American Museum provides the skills and knowledge to preserve your own historical records, including photographs and papers, and to collect oral histories. Sessions will be led by archivists from the University of Washington Libraries and MOHAI, and a consultant to the Shelf Life Community Story Project. Participation is free and includes admission to the Northwest African American Museum. We Are History Keepers is an ongoing program of the Ethnic Heritage Council and UW LIbraries.

Seattle International Startup Weekend

February 23 – 25, 2018

International Children's Friendship Festival

Plan Your Participation Now!

April 14-15, 2018

Seattle Center, Fisher Pavilion

305 Harrison Street, Seattle, WA 98109

Saturday, April 14, 2018 / 11:00 am – 5:00 pm

Sunday, April 15, 2018 /11:00 am – 5:00 pm

Performance, exhibit and volunteer opportunities for your youth.

For more information:

Ethnic Heritage Council is a partner with ICFF.

The upcoming Ethnic Heritage Council on-line hub

will connect you with other ethnic organizations around the state.

To add your organization in the directory,

complete and submit the EHConnect form

here

Join us! Become an EHC member today!

Support our great programs with

your organization or personal membership and/or donation.

Download the membership form

here

complete the form and send or email to EHC.

Ethnic Heritage Council | 305 Harrison Street, Room 312 | Seattle, WA 98109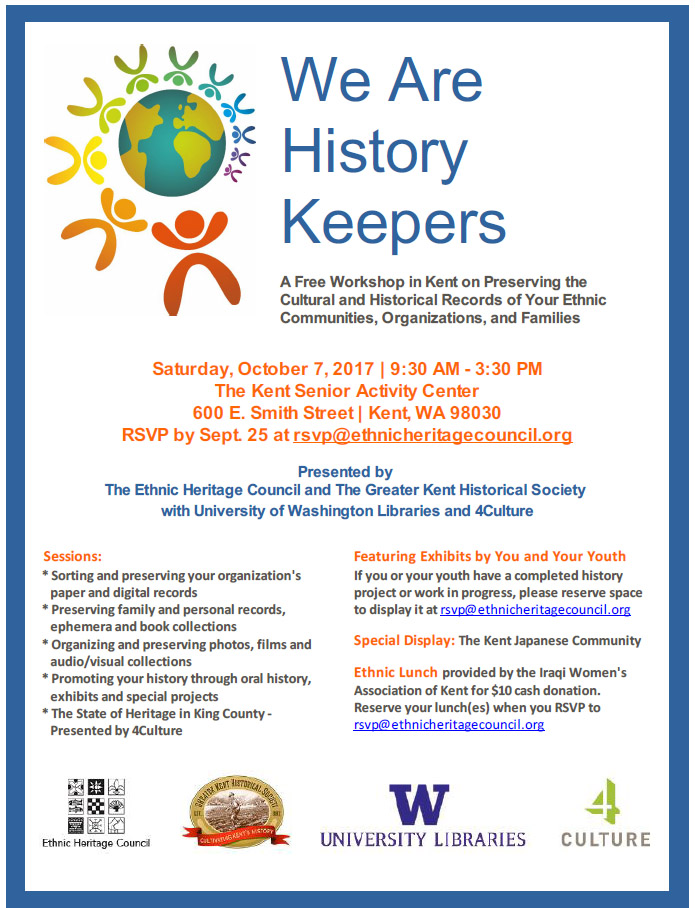 Links:
Download Workshop Flyer here
Download Workshop News Release here

Thank you to those who joined us for an evening of making new friends and honoring our winners, who represent Latino, Iranian, Greek and mixed heritages.
More photos from this very special evening are now posted on the EHC website.

Ethnic Heritage Council Announces 2017 Recipients of Pulakis and Tracie Memorial Awards
The Ethnic Heritage Council (EHC) is proud to announce the 2017 recipients of the Aspasia Phoutrides Pulakis and Gordon Ekvall Tracie Memorial Awards to be presented at the Annual Dinner and Awards Ceremony on Saturday, April 29, from 6-9 p.m. at the new Centilia Cultural Center on Plaza Roberto Maestas of El Centro de la Raza. Original Cuban music by Trovadoro will be performed on the Plaza beginning at 5:15 until 6:15 p.m. Watch for event details and registration at www.ethnicheritagecouncil.org.
Iraj Khademi and Estela Ortega are co-recipients of the 2017 Aspasia Phoutrides Pulakis Memorial Award established in 1983 for significant contributions to an ethnic community and to the community at large. The award is named for a revered founding member of EHC, of Greek heritage, who exemplified the organization's mission.
Christos Govetas and Ruth Hunter, husband and wife, will receive the 2017 Gordon Ekvall Tracie Memorial Award, established in 1990 and named for a musician and documentarian, who devoted four decades to the study, performance and promotion of Nordic traditional music and dance. The Gordon Ekvall Tracie Music Library is located in the Nordic Heritage Museum of Seattle.
Iraj Khademi is a revered organizer of cultural events, a poet, writer, researcher and retired attorney, nominated by Professor Selim Kuru of the Turkish community, Associate Professor and Chair of the Department of Near Eastern Languages and Civilization at the University of Washington. Kuru describes Khademi as "the centrifugal force" that for 17 years has brought together Persian community members and Persophiles from far beyond Seattle in monthly workshops on poetry and music. Once a month as many as 150 people gather at North Bellevue Community Center for "Persian Poetry and Music Workshop of Seattle" (PPMWS) where adults and youth recite poetry and literature and perform music and dance. "Khademi also has been an important bridge between the University of Washington and the Iranian community at large," says Kuru, "in building a legacy of Iranian and Persian speaking cultures in the Pacific Northwest."
Estela Ortega is a phenomenon in the depth and breadth of her work for the "beloved community." Nominated by Filipino community leaders Dr. Dorothy Cordova (winner of the first Pulakis Memorial Award in 1983) and Maria Batayola, she is described as a visionary leader. "Ortega's work goes beyond the traditional arts and cultural preservation, documentation and presentation. Her work exemplifies a more complex form of cultural and language preservation through active engagement with immigrants, refugees and bi-cultural Americans in their respective cultures of origin…" For the Ethnic Heritage Council, Ortega is a model of how a community can value and preserve heritage and also create a physical center that provides programs and a gathering place for many. As executive director of El Centro de la Raza, she spearheaded the development of the new Plaza Roberto Maestas and Centilia Cultural Center, as well as two buildings for affordable housing, retail stores, and El Centro's child development center.
Christos Govetas and Ruth Hunter, were nominated by performer and teacher of Balkan music and dance, Cheryl Spasojevic of the Serbian community. "Christos and Ruth have become my favorite band in the entire region," declares Spasojevic. "They promote not just Greek music, dancing and song but are instrumental in organizing a variety of events highlighting Balkan folk culture, including Balkan Dance Café and Balkan Night Northwest." Govetas and Hunter conduct workshops all along the West Coast and work extensively with youth, including the youth of St. Demetrios Greek Orthodox Church and Greek Church of the Assumption of Seattle. They have held workshops at the annual Greek youth performance competitions in California and accompanied Seattle youth performers to Greece. Versatile on a wide variety of traditional instruments, they have dedicated themselves to preserving and performing traditional Greek music and have a large collection of instruments and recordings going back to the 1920s. They have toured extensively in the U.S., Canada and Greece. Their two children Eleni and Bobby have absorbed it all and are now members of the band.
Performances for the evening will begin at 5:15 with original Cuban music by Trovadoro, continuing until 6:15 p.m. on the Plaza Roberto Maestas. Govetas and Hunter will perform a sampling from their Balkan repertoire after receiving the Tracie Memorial Award.
###
Contact information for recipients and nominators:
Iraj Khademi 425-829-2925, ikhademi@hotmail.com
Nominator: Professor Selim Kuru 206-543-4959, selims@uw.edu
Estela Ortega 206-957-4613, eortega@elcentrodelarraza.org
Nominators: Dr. Dorothy Cordova 206-322-0204, fanhsnational@gmail.com and
Maria Batayola 206-293-2951, mbjumpstart@msn.com
Christos Govetas and Ruth Hunter 206-779-0303, govetashunter@gmail.com
Nominator: Cheryl Spasojevic 425-745-1785, cspaso@gmail.com
Download the News Release (PDF)
---
Save These Dates for EHC Events in 2017
Sunday, August 13 EHC's Annual Ethnic Potluck Picnic at United Indians of All Tribes Daybreak Star Indian Cultural Center at Seattle's Discovery Park. We're returning to Daybreak Star for this festive gathering where your dish could be a winner!
A New EHC Partnership for 2017!
April 15-16 International Children's Friendship Festival (ICFF) at Seattle Center. The Ethnic Heritage Council is now a partner in ICFF's 2017 activities. ICFF is run by children and features performances by children, highlighting their ethnic heritages through music, folk dances and a variety of creative activities. The children celebrate their international friendship through experiencing the rich tapestry of the world's cultures. Visit childrensfest.tacawa.org to learn how you and your children and your organization can be involved. The Festival is free. Download flyer here.
---
Congratulations
Winners of the EHC Student Video Contest!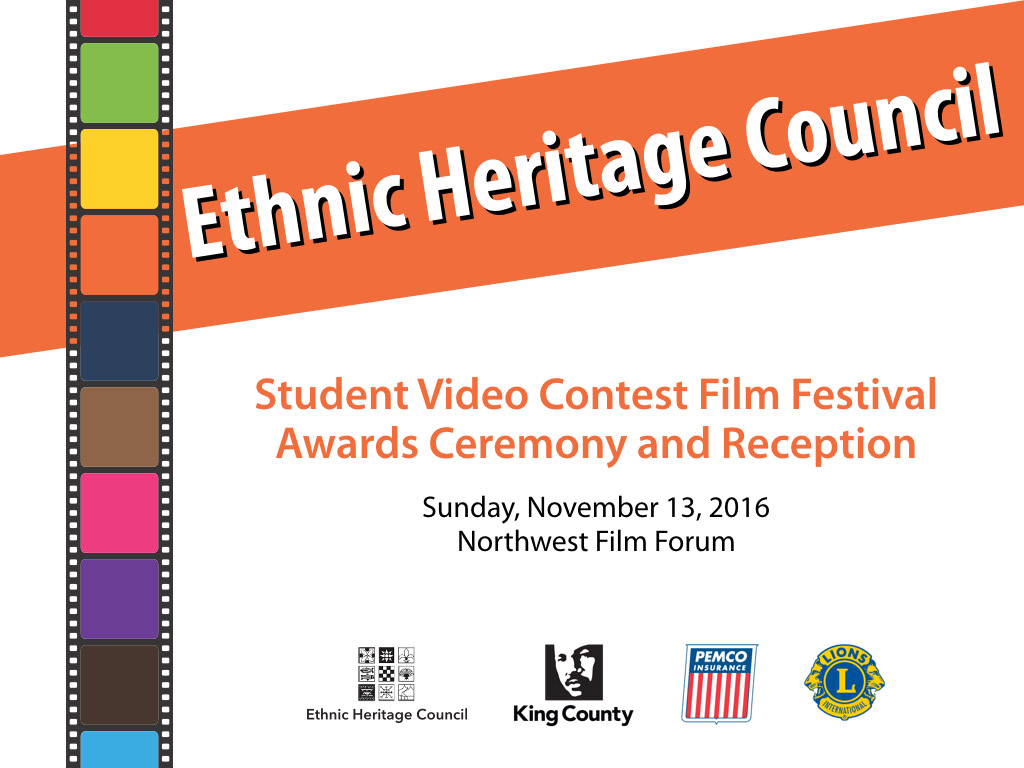 Awards were presented at the EHC Film Festival and Awards Ceremony on Sunday, November 13, 2016 at the Northwest Film Forum, Seattle.
Congratulations to:
Junior High
First place, $1,000 check
Chayton Remle
Past + Present = Me. What I Love About My Culture
Second place, $500 check
Rahul Mallela
The Greatest Problems of the Greatest Democracy
High School
First Place, $1,000 check
Abdulgani Mohamad, Yuhaniz Aly, Samir Nguyen
Ramadan
Second Place, $500 check
Sam Cleary
Ireland
Honorable Mention, $100 check
Alexander Chen
A Deeper Look at Chinese Culture
Honorable Mention, $100 check
Rohan Ramdin
An Honest Conversation
People's Choice Award, $500 check
Abdulgani Mohamad, Yuhaniz Aly, Samir Nguyen
Ramadan
Following is a brief overview of the judges' comments.
Message was an important one; dynamic and moving; clear; fully achieved.
Well organized; structure was perfect; great beginning, middle, end.
Interesting concept; unique, creative approach.
Very engaging, learned something new.
Great use of techniques, props and talent. Excellent set design.
Strong use of data, examples, graphics, music.
Powerful visuals. Many memorable images. Beautiful cinematography.
Thoughtful writing. Narration was perfect. Spectacular editing.
Strong connection with family, heritage and community.
The judges as well as the audience were impressed and inspired by the stories.
Thank you to all who voted for their favorite video on YouTube.
Special thanks to the students and their families, and to the King County Office of Equity and Social Justice, PEMCO Insurance Company, and the University-Ballard Lions Club.
The program for the EHC Film Festival and Awards Ceremony is available to download here.
---
2016 Annual Dinner & Awards Ceremony
Polish Cultural Center – Seattle – May 7, 2016
Photos by Gary Benson
View gallery »
EHC thanks these sponsors for their generous annual program and operating support: